FOUR SEASONS: THE MARKET LEADER IN GUTTER PROTECTION
Stop leaves getting into your guttering with a leaf guard screen system from Four Seasons Gutter Protection NZ. We will clean your gutters, then install our gutter guard to give ongoing leaf protection. You won't have any further need for a gutter cleaning service to clean roof gutters.
Request a quote.
Our Sales Support team will contact you to arrange a suitable day/time for a visit.
Four Seasons Sales Consultants will inspect your site for safety, and confirm the fitting requirements of your roof. 
Our Sales Support team will work with you to schedule an installation appointment.
Four Seasons Technical Installers will clean and flush your gutters with water, and check the downpipes for blockages.
Your gutter guard will be installed to give ongoing protection from leaves, birds and pests. 
We recommend an annual flush with your garden hose or gutter wand (that can be purchased from us) to maintain the effectiveness of your new gutter guard system.
Four Seasons Gutter Protection is Australasia's leading gutter guard installer, supplier and manufacturer. Our uniquely designed Continuous Control Flow mesh is significantly stronger than comparable products, and is the most advanced gutter protection mesh on the Australasian market. This uniqueness helped us win the only Design & Innovation award within the industry and is exclusive to Four Seasons Gutter Protection, so get in touch today for your free no obligation quote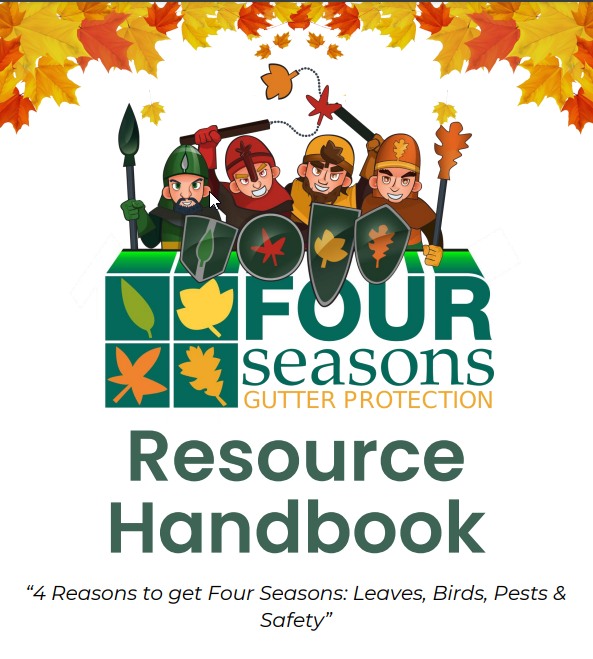 Four Seasons Resource Handbook
Marlene - Waiuku, Auckland (April 2021)
"Thank you very much for a job well done and we are very happy with the end result. Just intime too as we had a lot of very heavy rain yesterday and listening to the water going straight down the pipes instead of overflowing was music to my ears."
Greg & Del - Rotorua, Bay of Plenty (March 2021)
"Thank you for your patience with this and arranging for the job to commence before we had the funds.
Also would like to commend Myles and his communication throughout the process, he was brilliant. It made the process much easier especially when you don't live in the city where the work is being done."
Lynne - Ellerslie, Auckland (March 2021)
"Thank you for providing such a good service. Nick and David were brilliant, and completed the work without any hassle."
Mike - Hamilton, Waikato (March 2021)
"Four Seasons Gutter Protection have just installed their Continuous Flow gutter guard material to all our gutters and have done a great job. The installation was not easy as we have a three story property which presented challenges but they overcame these in a very professional manner. I would thoroughly recommend them to others in need of gutter guards."
Corinne - Manukau, Auckland (March 2021)
"From the quote right through to the install the team were great. Very happy with job and the comprehensive warranty is awesome. Thanks!"